Post 177 will be holding a 4 Chaplains Service on Sunday February 5th at 1030 am.
On February 3, 1943 at 1255 am, the SS Dorchester was struck amid ship by a German torpedo in the icy waters off Newfoundland. The torpedo knocked out the electrical system leaving the ship dark. As panic set in for the 902 passengers, four chaplains helped calm the men and organize an orderly evacuation. The Four Chaplains were Lt. George L. Fox, Methodist; Lt. Alexander D. Goode, Jewish; Lt. Clark V. Poling, Dutch Reformed; and Lt. John P. Washington, Roman Catholic.
The chaplains spread out among the soldiers to tend to the wounded and calm the frightened. As life preserver supplies ran out the four chaplains removed their own and gave them to four young soldiers. As the ship went down, the four chaplains could be seen with their arms linked and braced against the slanted deck. As the ship went down, they could still be heard offering prayers and encouragement.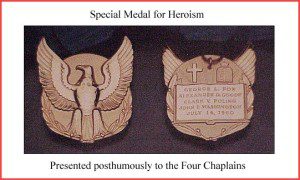 On January 18, 1961 President Eisenhower posthumously awarded a one-time only Special Medal for Heroism to the Four Chaplains. For more on the story, read the article linked here or watch the video below.